Virtual Open Day 2021-2022
6th Jan 2022
Visit the EA Admissions page to apply for P1 places in Ballyhenry https://www.eani.org.uk/parents/admissions...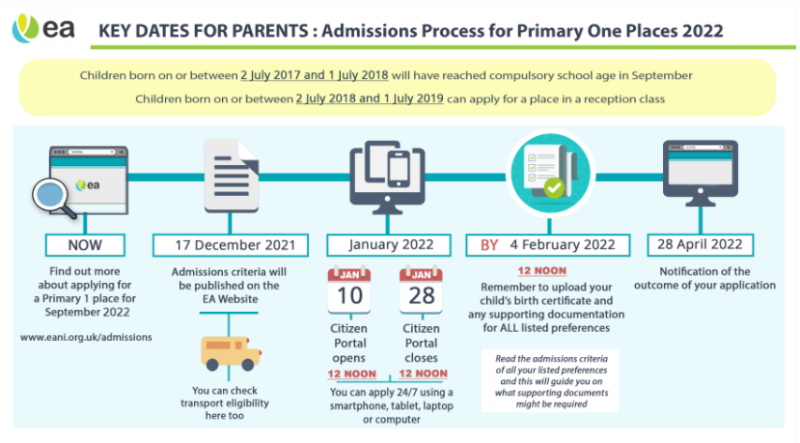 20th Nov 2021
Do you have a child starting P1 in September 2022? Find out more about what...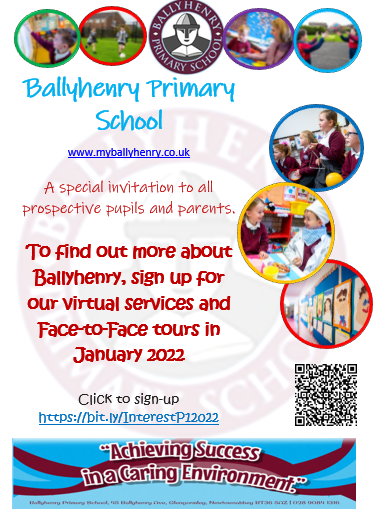 Virtual Open Day 2021-2022
Welcome to the section of our website devoted to prospective pupils and parents.
Here at Ballyhenry we work hard to help you and your child be a part of our school family even before they start school!
We know things are a still little different this year, but we want to make sure that we provide you need to make the important decision regarding your child's primary school. Use this form to sign up for updates regarding information, events, the application process, to book an appointment and so much more.

Here is a taste of what we hope to offer:
Virtual Open Night (Currently Available on our Website)
Festive Fun Pack for Potential Pupils (December 2021)
Christmas Celebration Video (December 2021)
Outdoor Festive Sing-a-long (December 2021)
Covid-Secure Face to Face Chat and Tour (January, 2022)
Cosy Night at Home (January, 2022)
Support Online P1 Application (Open 10th January 2022 and closes 28th January 2022)
Zoom Transition to Primary School (April, 2022)
We hope that later in the year there might be a possibility of
Community Coffee Morning (May/June 2022)
Stay and Play Familiarisation (May/June 2022)
We would like to welcome you to our Open Week which takes place from 10th-14th January. You are invited to book a tour with Mrs Knocker, school Principal, and view our school community working together.
To get further information about virtual events and tours please follow this link: https://bit.ly/InterestP12022

If you have any questions please contact the principal via email lknocker496@c2kni.net or feel free to telephone the school office (028) 908241316. We are happy to help in any way we can!
Thank you for taking time to visit our school site and we hope your child will be happy in whichever school you choose.
Ballyhenry_Principal_s_Chat_Open_Morning.mp4
Ballyhenry Primary School Promo
Night Before Chirstmas in BallyhenryPS
Ballyhenry Primary School, 45 Ballyhenry Ave, Glengormley, Newtownabbey BT36 5AZ | 028 9084 1316